Apply for an Internship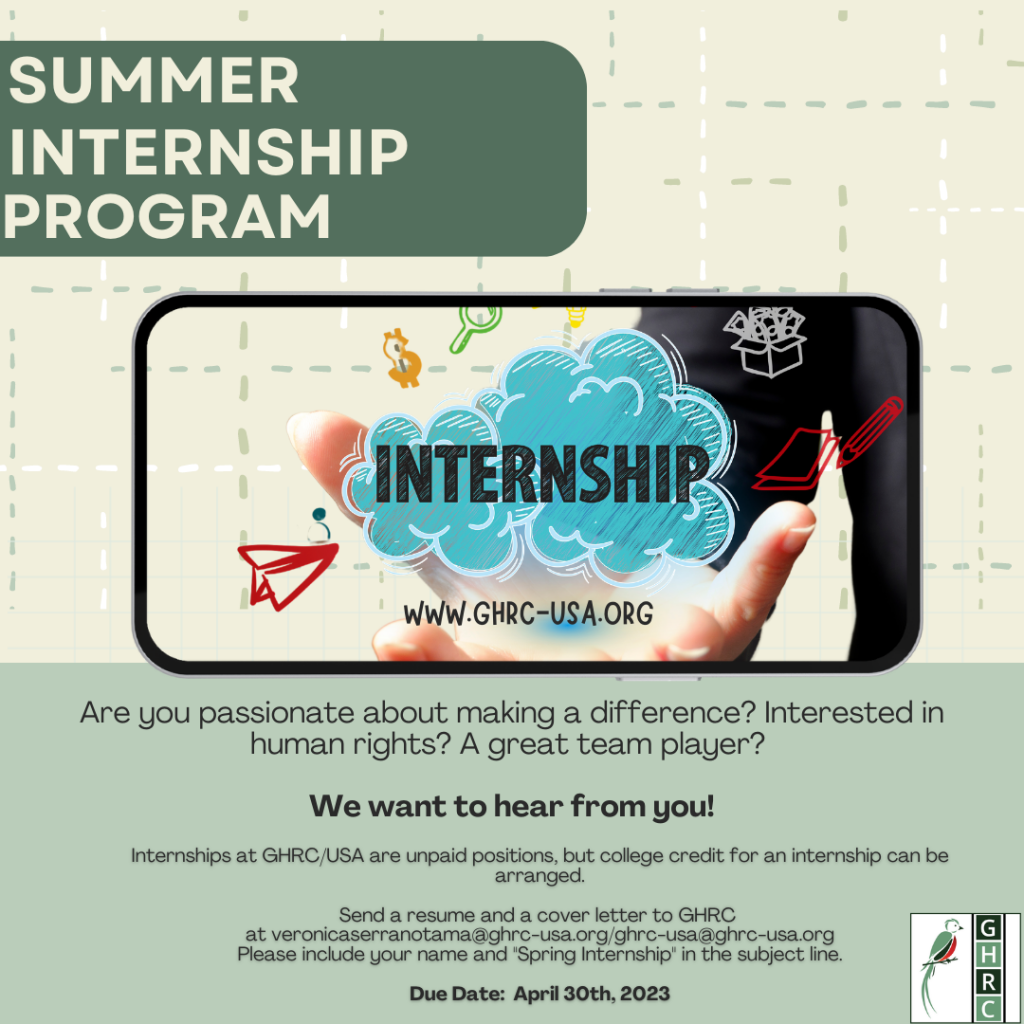 The Guatemala Human Rights Commission/USA (GHRC) offers internships year round. GHRC, founded in 1982, monitors, documents, and reports on the human rights situation in Guatemala, advocates for survivors of human rights abuses in Guatemala, and works toward positive, systemic change.
We are now seeking interns for Summer 2023 (specific dates are flexible). Depending on evolving Covid safety requirements, some or all of the internship may be completed remotely.
Role of Interns
Because the Guatemala Human Rights Commission/USA is a small organization, interns are integral and involved in many aspects of our work. Depending on their interests, interns can hone their translating and editing skills working on our quarterly publication, gain experience planning and organizing events (such as fundraisers, speaking tours, or delegations to Guatemala), fine-tune their research skills assisting staff with affidavits for political asylum cases, and learn up-close how a nonprofit organization functions. General duties may include:
Publications: Translating, writing, editing, and publishing reports.
Outreach: Maintaining and updating our media list, creatively forging links between our organization and others, and helping with congressional work, when applicable.
Development: Researching grant opportunities, preparing direct mail letters, organizing fundraisers, and acquiring basic database and website management skills.
Asylum documentation: GHRC works with a national network of attorneys on political asylum cases by providing legal research and expert testimony. Intern work may include researching particular subjects to support political asylum claims, organizing subject files, and compiling information to draft affidavits.
All interns will have the opportunity to attend coalition meetings, regarding US policy as it relates to Guatemala. Often, interns have the opportunity to attend congressional briefings and/or meetings with congressional staff and may also have the opportunity to meet prominent Guatemalan human rights defenders. All interns will be able to research a topic of interest pertaining to the human rights situation in Guatemala, work with an editor, and submit articles for publication.
In your application, please let us know if you have a specific interest in one (or more) of the following areas:
Communications and Fundraising
Assist with content creation for GHRC newsletter, blog, website and social media channels
Maintain and update media database
Attend/document events in DC as needed
Monitor human rights news and media coverage of GHRC; generate weekly human rights updates
Assist with social media monitoring and web analytics
Assist with GHRC fundraising campaigns (direct mail and email campaigns)
Assist with fundraising events (annual Human Rights Defenders Award)
Advocacy/Organizing and Events
Monitor, analyze, and summarize policy developments that pertain to GHRC's thematic areas
Draft content for use in fact sheets, reports, and other GHRC publications
Provide assistance for special events (e.g. annual Human Rights Defenders award and IACHR meetings)
Support logistics of GHRC's Fall speaking tour and summer delegation
Help maintain database of university contacts
Contribute to the organization's grassroots organizing efforts
Attend congressional briefings and/or meetings with congressional staff (when possible)
Program and Research
Support key GHRC campaigns
Conduct research for asylum cases, organize subject files, and compile information to draft affidavits
Support processes around initiatives to provide direct support to human rights defenders (e.g. Voiceless Speak Fund, Human Rights Defenders Fund)
Conduct research for GHRC articles, publications, resources, and/or in-depth reports
It is a policy of our office that we all share in communal administrative tasks. Those tasks include answering phones, data entry, photocopying, filing, mailings, processing orders, and dispatching information.
The intern and GHRC/USA staff will usually decide together on the intern's particular focus, according to the person's interests and previous experience. A minimum of twenty hours per week is preferable.
During the COVID-19 pandemic, interns may work off site.
Required
Strong written and oral skills. Spanish skills are useful but not required. (The ability to translate from Spanish to English is particularly useful.)
Enthusiasm
Reliability
Excellent research skills
Though not a prerequisite, the following background is strongly preferred:
Demonstrated interest in Latin America/human rights issues
Activism in human rights, peace, and justice causes
Good organizational skills
Secure knowledge of WordPress is a big plus
How to Apply
Internships at GHRC/USA are unpaid positions. College credit for an internship can be arranged. Please email your resume and cover letter (with the dates and hours you are available) to GHRC at ghrc-usa@ghrc-usa.org. Please use "[Last Name]-[First Name] Internship" as the subject line.