April  9, 2012
The Guatemala Human Rights Commission/USA wishes to publicly applaud the courageous, determined, and indefatigable men, women, and children who participated in the historic Peasant, Indigenous and Popular Movement March from Cobán to Guatemala City.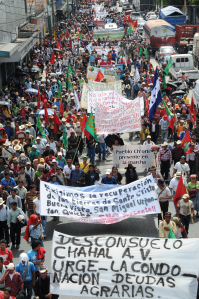 For nine days, thousands of indigenous and peasant farmers hiked under a brutally unforgiving sun, battling exhaustion, dehydration, and heat stroke. For nine evenings, they slept on cold concrete floors, jammed together in rows like kernels of corn on the cob. They hiked 120 miles through misty rain forest and arid desert to carry their voices to the seat of power: the National Palace in Guatemala City.
With each and every step the marchers took, they further compelled the government to hear their just demands. By the end of the march, their legs were sore and their feet were blistered… but they would not, and they did not, return to their communities empty-handed.
We join our voices with the students, academics, journalists, artists, musicians, union leaders, environmentalists, human rights activists, women's organizations, and all others who support the marchers in their legitimate and historic struggle. We are humbled by their sacrifice and motivated by their perseverance!
In solidarity with the marchers, the Guatemala Human Rights Commission/USA declares that:
We stand with the over 800 families of the Polochic Valley who, one year ago, were violently evicted from their homes by the Guatemalan police, military, and private security guards hired by the Chabil Utzaj Sugar Company.
We lament the senseless destruction of their homes, crops, and personal belongings and call on the government to fully comply with all of the Precautionary Measures issued by the Inter-American Commission on Human Rights to protect these families at risk.
We mourn the tragic assassinations of community leaders Antonio Beb Ac, Oscar Reyes, and Margarita Che Chub and demand that those responsible be brought to justice.
We recognize that the only permanent solution to the crisis in the Polochic Valley is for the communities to have direct access to land for farming and self-sustenance. Therefore, we urge the Guatemalan government and its institutions to provide a comprehensive proposal that meets the urgent needs of these families.
We welcome the accords signed by President Otto Pérez Molina and members of his administration which came as a direct result of the massive mobilization of the peasant organizations. Among the commitments agreed to by the government:
The creation of a subsidy to alleviate the crushing debt suffered by family farmers and agrarian communities
Compliance with the Polochic precautionary measures and guaranteed access to land for at least 300 families per year
Protection for the Polochic communities from abuses by private security firms or irregular forces employed by the Chabil Utzaj sugar cane company
The promise to address land conflicts in various communities throughout the country, including Santa Maria Xalapán
We expect that these accords will be honored by President Pérez Molina's administration and implemented in good faith and without delay.
We condemn the gross misuse of state security forces on the day the march arrived at the National Palace. The placement of Kaibil special force soldiers and heavily-armed snipers on the rooftops of the buildings surrounding the central plaza was clearly intended as an act of surveillance and intimidation against the peaceful demonstration.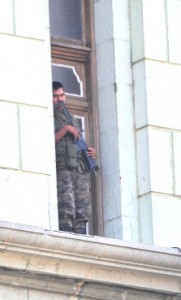 Marchers voiced their fears of history repeating itself: in 1978 soldiers positioned on rooftops surrounding the town square of Panzos opened fire on a crowd of peaceful protestors, killing at least 53 people. Many of the massacre victims were family members of the men, women, and children participating in this march. The fact that the current administration chose to replicate the same conditions during this protest is an unacceptable and unnecessary tactic, and is an affront to the spirit of the march.
We support the right of each community to decide, through binding popular consultation, the proper use or conservation of its natural resources.
We reject the distortion and abuse of the legal system by powerful economic and political interests with the intent to criminalize and penalize activists, community leaders, and human rights defenders who work for the greater good.
We denounce the malicious and defamatory attacks published in certain mainstream media programs against peasant and indigenous communities involved in the struggle to protect their natural resources against transnational business interests. These unfounded attacks have also been directed at foreign governments and international solidarity organizations that support these movements with funding and accompaniment. Falsely accusing indigenous leaders of being "terrorists" or "enemies of peace and democracy" only serves to foment racism, conflict and violence.
We call for a moratorium on all land evictions until a better mechanism for resolving land disputes is implemented. An impartial, transparent, and thorough investigation into land rights and ownership that goes beyond the mere possession of land titles is indispensable. The moratorium on evictions should remain in place until all governmental policies and actions are brought into full conformity with international human rights obligations. Land evictions must not result, as they have to date, in excessive use of force, homelessness, and further destitution.
We call into question the placement of military troops and installation of military bases in areas where the population has presented organized resistance to extractive mining, biofuel production such as African palm, hydroelectric dams, and other destructive "megaprojects."
We strongly recommend that the government immediately implement all the processes necessary to resolve land conflicts and address the historic demand for land. The passing of legislation, such as the Integral Rural Development Law (4084) and the Rights of the Indigenous Peoples Law (4047), would be an important step forward in this direction.
The Guatemala Human Rights Commission/USA (GHRC) commends the men, women, and children who walked their way into history last week. Although the march has finished, the struggle of peasant and indigenous communities to build a nation that respects human rights and promotes social justice continues. GHRC stands in solidarity with all those who work tirelessly for a better Guatemala.
---
---
Carta abierta
La Comisión de Derechos Humanos de Guatemala en Estados Unidos desea aplaudir públicamente a los hombres, mujeres y niños valientes, determinados e incansables, quienes participaron en la marcha histórica de Cobán a la Ciudad de Guatemala del movimiento campesino, indígena y popular.
Durante nueve días, miles de personas de comunidades indígenas y campesinas caminaron bajo un sol fuerte e implacable, luchando contra el cansancio, deshidratación e insolación. Durante nueve noches, durmieron en pisos duros de concreto, apiñados en filas como granos de elote en la mazorca.  Caminaron 214 kilómetros por el bosque nuboso y el desierto árido para que sus voces llegaran a la sede de poder: el Palacio Nacional en la Ciudad de Guatemala.
Cada paso adelante de los que marchaban, fue un paso adelante en su lucha para obligar al gobierno escuchar a sus demandas. Al final de la marcha, los caminantes tenían las piernas adoloridas y los pies ampollados…pero no querían regresar a sus comunidades con las manos vacías, y no lo hicieron.
Unimos nuestras voces a las de los estudiantes, académicos, periodistas, artistas, músicos, sindicalistas, ambientalistas, defensores de los derechos humanos, organizaciones de mujeres y todos los demás quienes apoyan a los manifestantes en su lucha legítima e histórica. ¡Estamos conmovidos por su sacrificio y motivados por su perseverancia!
En solidaridad con los manifestantes, la Comisión de Derechos Humanos de Guatemala en Estados Unidos declara que:
Nos solidarizamos con las más de 800 familias del Valle del Polochic quienes, hace un año, fueron desalojadas violentamente de sus hogares por la policía y ejército guatemalteco y guardias de seguridad privada contratadas por la empresa cañera Chabil Utzaj.
Lamentamos la destrucción sin sentido de sus viviendas, cosechas y pertenencias personales y hacemos un llamado al gobierno a que cumpla con todas la Medidas Cautelares otorgadas por la Comisión Interamericana de Derechos Humanos con fin de proteger a estas familias en riesgo.
Lloramos los trágicos asesinatos de los líderes comunitarios Antonio Beb Ac, Oscar Reyes y lideresa Margarita Che Chub e instamos a que los responsables sean llevados ante la justicia.
Reconocemos que la única solución permanente a la crisis en el Valle del Polochic es que las comunidades tengan acceso directo a la tierra, donde pueden cultivar para sus propios alimentos y sustento. Por lo tanto, instamos al gobierno de Guatemala y sus instituciones que ofrezcan una propuesta comprensiva que responda a las necesidades urgentes de estas familias.
Respaldamos los acuerdos firmados como resultado de la movilización masiva de las organizaciones campesinas. Dentro de los compromisos asumidos por el gobierno del  Presidente Otto Pérez Molina están:
La creación de un subsidio para aliviar la deuda aplastante sufrida por las familias y comunidades campesinas;
 El cumplimiento con las medidas cautelares en el Polochic y acceso garantizado a tierra para un mínimo de 300 familias por año;
Protección para las comunidades del Polochic de abusos cometidos por empresas de seguridad privada o fuerzas irregulares contratadas por la empresa cañera Chabil Utzaj;
 La promesa de tratar el tema de los conflictos de tierra en varias comunidades en el país, incluida Santa Maria Xalapán.
Esperamos que estos acuerdos sean honrados por la administración del Presidente Pérez Molina sin demora y de buena fe.
Condenamos la presencia intimidante e injustificable de las fuerzas estatales de seguridad el día que llegó la marcha al Palacio Nacional. La ubicación de fuerzas especiales kaibiles y francotiradores fuertemente armados en los techos de los edificios alrededor del parque central tenía el claro objetivo de vigilar y atemorizar a la marcha pacífica. Manifestantes expresaron su temor que la historia se repitiera: en 1978 soldados posicionados en los techos alrededor del parque central de Panzós abrieron fuego contra una protesta pacífica, matando a por lo menos 53 personas. Muchas de las víctimas de la masacre eran familiares de los hombres, mujeres y niños participando en esta marcha. El hecho de que la administración actual decidió utilizar a estas mismas tácticas es una ofensa al espíritu de la marcha.
Apoyamos el derecho de cada comunidad de decidir, a través de una consulta comunitaria participativa y vinculante, sobre la utilización o la conservación apropiada de sus recursos naturales.
Rechazamos la distorsión y el abuso del sistema legal por actores ligados a sectores económicamente y políticamente poderosos con la intención de criminalizar y desprestigiar a activistas, líderes comunitarios y defensores de derechos humanos.
Denunciamos los ataques maliciosos y difamatorios publicados en ciertos programas de los medios masivos dirigidos a comunidades indígenas y campesinas involucradas en la lucha de proteger sus recursos naturales de los intereses de empresas transnacionales. Estos ataques sin fundamento también han sido dirigidos a gobiernos extranjeros y organizaciones internacionales de solidaridad que apoyan estos movimientos con fondos y acompañamiento. Las acusaciones falsas contra líderes indígenas de ser "terroristas" o "enemigos de la paz y la democracia" sirven únicamente para fomentar el racismo, la conflictividad y la violencia.
Pedimos una moratoria a los desalojo hasta que se haya implementado un mejor mecanismo para resolver los conflictos territoriales. Es indispensable una investigación imparcial, transparente y exhaustiva en derechos territoriales y propiedad que va más allá de la simple posesión de un título. La moratoria debe permanecer vigente hasta que todas políticas y acciones gubernamentales conformen completamente con las obligaciones internacionales de derechos humanos. Los desalojos no deben resultar en el uso excesivo de la fuerza, la destrucción de viviendas y condiciones de pobreza aun más extremas, como ha sido el patrón hasta la fecha.
Cuestionamos el despliegue de tropas y la apertura de bases militares en áreas en los cuales la población ha presentado una resistencia organizada a la minera, la producción de biocombustibles como la Palma Africana, hidroeléctricas u otros megaproyectos destructivos.
Recomendamos que el gobierno implemente de forma inmediata todos los procesos necesarios para resolver los conflictos territoriales y la demanda histórica por la tierra. La aprobación de legislación, como la iniciativa de Ley de Desarrollo Rural Integral (4084) y la Ley General de Derechos de Pueblos Indígenas (4047), sería un paso positivo.
La Comisión de Derechos Humanos de Guatemala en Estados Unidos (GHRC) aplaude a los hombres, mujeres y niños que caminaron en la marcha histórica la semana pasada. Aunque la marcha se ha concluido, las comunidades indígenas y campesinas continúan su lucha por construir una nación que respeta a los derechos humanos y promueve la justicia social. GHRC se solidariza con todas y todos quienes trabajan incansablemente por una Guatemala mejor.