GHRC's annual speaker's tours are a chance for Guatemalan activists, community leaders and human rights defenders to come to the United States to share their stories and raise awareness about the issues that are most important to them.  GHRC organizes a number of events, both public and private, where the speaker is able to engage in active discussions with community members and government officials alike.
Please see below for specific information regarding some of our most recent tours. Check out the "Upcoming Events" page on our website to find out about future speaker's tours.
If you are interested in possibly hosting an event, please contact us at ghrc-usa@ghrc-usa.org
Spring 2014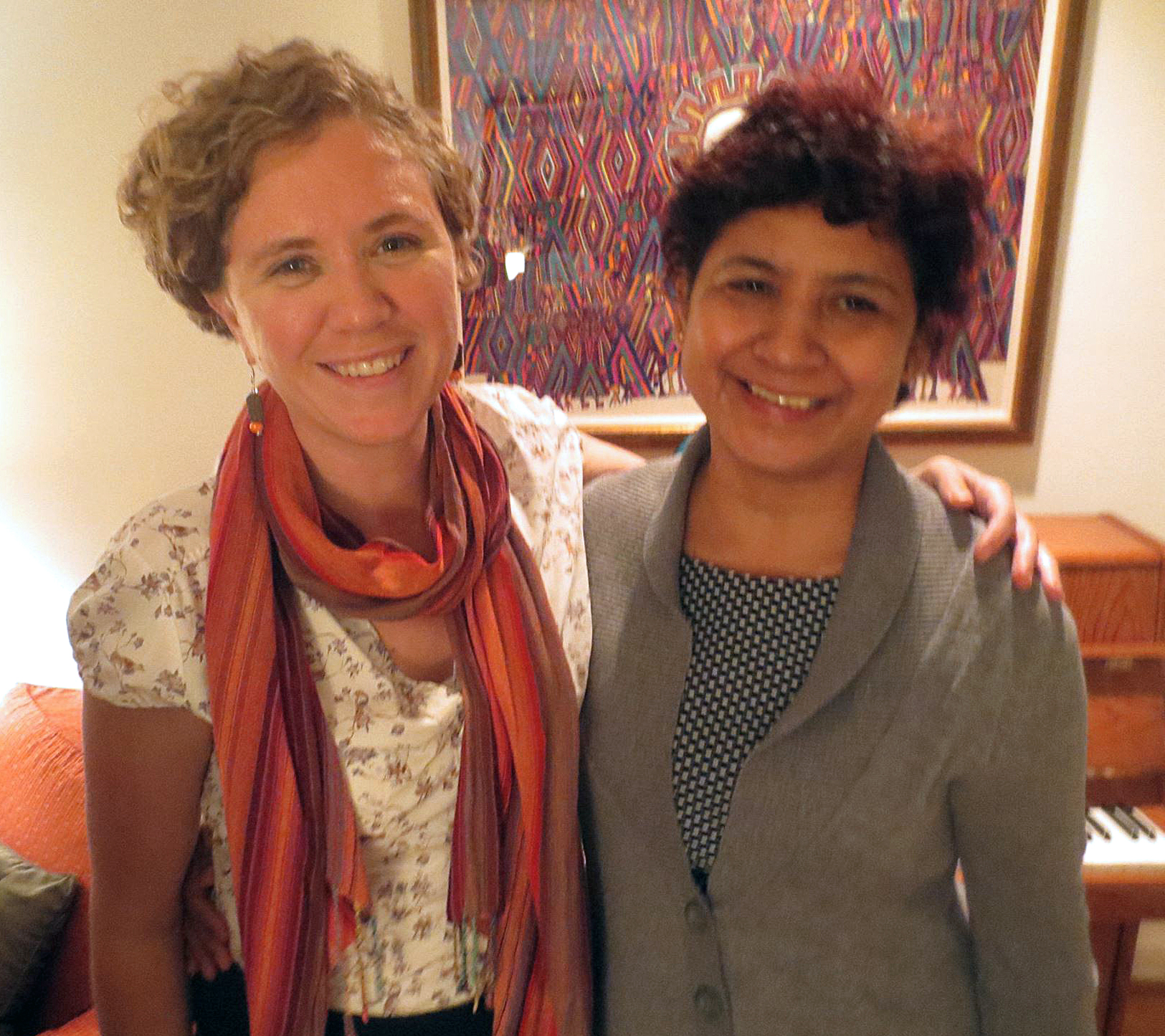 During April of 2014, Makrina Gudiel visited the East coast of the US, with a University of Massachusetts event marking the first stop on her two-week, five-state speaking tour.
Many Guatemalans lost loved ones during that country's civil war. For Makrina, it was her brother, who was disappeared in 1983 by state forces and is included in the infamous "Military Diary," a logbook that documented the kidnap, torture, and murder of 183 people considered to be linked to anti-government activity. At each stop, Makrina explained how her family brought her brother's case to the Inter-American Commission in 2004, and how then — just days later — her father was murdered. The government never carried out an adequate investigation into the crime, and on February 5, 2014, Makrina testified before the Inter-American Court about the case.
Twenty-eight of the families whose relatives appear in the Military Diary have come together to bring their case to a Guatemalan Court. Makrina described the process as an "uphill battle" that brings immense risk to the families.
Read GHRC's article in El Quetzal on Makrina's tour here.
---
Spring 2013
In March of 2013, Lolita Chávez Ixcaquic came to Washington, D.C. to speak about the struggle for indigenous land rights and self-determination in Guatemala. She spoke at five universities and in several public presentations; she also attended meetings with Congressional offices, the US Department of State and the Inter-American Commission.
Lolita is spokesperson for the K'iche' People's Council, (CPK in Spanish), an organization which represents 87 Mayan communities in the department of Quiché, Guatemala.
Along the tour, Lolita audiences about the K'iche' people's ties to their land and environment and the risks faced by activists like her who stand up for indigenous rights. She inspired many with her courage and message of perseverance.
Read some write-ups and media reports about Lolita's tour here:
Street Sense: April 19 article aboout thel
El Pregonero: March 27 article in Spanish
SID Gender in Development Workgroup write-up about the event they hosted
Read GHRC's article in El Quetzal on Lolita's tour here
---
Spring 2012
In April and May of 2012, Iduvina Hernández Batres went on a tour of the West Coast, making stops in Washington, Oregon, and California in addition to several events in Washington, DC. Iduvina, a human rights activist from Guatemala City, spoke with university and community groups as well as representatives of the US Government about militarization, human rights and threats to justice in Guatemala.
Iduvina is a journalist and the Executive Director of the Association for the Study and Promotion of Security in Democracy (SEDEM). SEDEM is an organization in Guatemala that promotes democratic controls over citizen security. Iduvina's presentations focused on the powerful impact that retired military officers – implicated in crimes against humanity – continue to have on national security policy. She also discussed the recent moves to criminalize indigenous activists defending their right to their ancestral lands.
SID Gender in Development Workgroup write-up of the event they hosted
Video of the event hosted by Fairhaven College in Washington
---
Fall 2011
In November of 2011, Maria Cuc Choc spoke at a series of events in Washington, DC, Chicago, Iowa and the Twin Cities.
Maria is a Mayan activist and community leader from Guatemala who has fought for indigenous rights, land rights and women's rights in her community – and regionally – for many years.  Maria comes from a family of community organizers and activists, whose efforts and sacrifices have served to strengthen her community solidarity. The participants at these events had the opportunity to meet Maria, hear her story and learn about the ongoing struggle for land, justice and indigenous rights in Guatemala. She spoke about these struggles within the context of increasing violence and the presidential administration of Otto Pérez Molina.