Published in El Quetzal Issue 14, May 2013
On March 1, Adrian Ventura, survivor of the genocide in Guatemala, addressed a crowd at Georgetown University which included activists, academics, ambassadors and genocide survivors from other countries. He was there to share his experience, and contribute to an effort to understand the crime of genocide in order to prevent it in the future.
Dressed in the colorfully embroidered black wool traje traditionally worn by indigenous leaders in Chichicastenango, Adrian arrived at Georgetown University Law School prepared to represent his people and recount his story. When his turn came, he detailed his experiences as a child in El Quiché, and how his family suffered through the government's scorched earth policies that sought to exterminate the population, armed or civilian.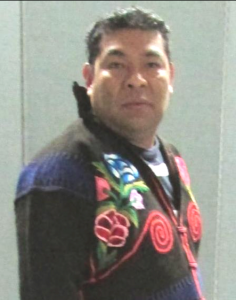 He explained that, beyond bombs and guns, the government used psychological torture against the people. Soldiers rounded up villagers, gunned down children and raped young girls and women in front of their families. The intent, he said, was for word of the atrocities to spread through the villages, sowing fear.
Adrian harrowingly recounted how, at only nine years old he was separated from his family. One day, he said, soldiers came to his village. He hid in his house with his family, sure they would all be killed. The soldiers set fire to the forest surrounding the houses and soon his family's house caught fire as well. They fled, scattering in different directions to escape the flames. Adrian described having to cover his face and run through the smoldering woods to get away. In the process, he lost track of his parents and siblings and was forced to flee to Mexico without them.
When this happened, he said, "We thought the whole world was our enemy. They didn't explain why they were doing this to us. We were only children. We didn't participate in the army or the guerilla, yet we paid the price for the government's problems."
Adrian gave his testimony alongside survivors of the Jewish Holocaust, the genocide in Biafra and the genocide in Cambodia. Each survivor recounted what they had suffered as attendees tried to make sense of the stories and find clues as to how to prevent recurrences. As he spoke, Adrian voiced the fear which was at the heart of the conference. "I have children and I fear that another genocide will be carried out, in this country or another, because the causes of the genocide remain."
Adrian had a simple prescription for prevention. "The only medicine to create change, improvement and prevention is justice for survivors. Justice for genocide would mean we could reclaim our dignity and our memory." And yet, he said, there is no cure for victims. "We will always suffer in our heart and soul from the trauma caused by the government."
Nevertheless, he explained, knowing that people acknowledged their suffering and that they stand with the indigenous people of Guatemala was an important form of support.
At a GHRC event the night before, Adrian expressed his gratitude for ongoing international engagement. "When the government of Ríos Montt gave the order to kill all Catholic and indigenous leaders, we were alone. It was like we were in a tunnel, in the dark with nowhere to go. We could only hear the bombs, the grenades, the rifles….But it makes me happy to know that now there are many people who pay attention to us and recognize that we have dignity. I want to thank everyone for getting involved and listening to us."