Published in El Quetzal Issue 14, May 2013
By Voiceless Speak Recipient Heidy Rodríguez
It is funny the way life works in a cyclical manner. We always go back to where we started in one form or another. At 23, I traveled from my home in the United States to Guatemala, reversing the journey my parents had made at the very same age. They had left war-stricken Guatemala for the US in the 1980s.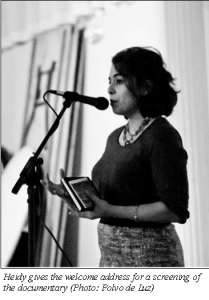 I was advised not to travel alone, and while in Guatemala, I lived in constant fear for my safety in a land where misogyny is the norm. Unfortunately, my fear was not unfounded, and while walking down the street in Quetzaltenango, I was assaulted. I knew then that I had to break the silence that kept Guatemala's misogyny in the shadows and help others in the community do the same.
I am a peaceful warrior and support causes that will never allow any woman, regardless of legal status, to face injustice and fear. This is why I was inspired to join the Justice for My Sister Collective after attending a community film screening of the award-winning documentary Justice for My Sister.
The film is a David–versus-Goliath story about Rebeca, whose sister Adela was brutally murdered by her ex-boyfriend Ricardo. Rebeca is a single mother of five who makes tortillas to survive. Despite seemingly insurmountable obstacles, she is determined to see that Adela's killer is held accountable, and has led an effort to push for an investigation of the murder.
The story hit especially close to home as it takes place in my father's hometown of Escuintla. Watching it was like walking through Escuintla myself, and it reminded me of my own community's survivors-turned-warriors who have peacefully combated violence against women.
Formed in November, 2011, the Collective began as an outreach campaign surrounding the film and works  to form young leaders in Guatemala who can, in turn, offer violence prevention workshops to thousands more. In the US, the Collective educates immigrant women about healthy relationships through workshops, seminars, community events, and film screenings. It aims to end the silence and break the cycle that has long reigned in our patriarchal culture and trickles down to our families. I serve as one of the community coordinators in the Collective, and organize community events, pitch ideas, and maintain communication with special speakers.
Over the last year and a half, the film and our violence prevention campaign have traveled to over 150 communities in Guatemala, in addition to nine other countries, numerous college campuses in the US, several high schools, and many community spaces in Los Angeles. In June 2012, our Los Angeles chapter held its inaugural retreat and training.
As a collective, our first step was to develop our own leadership skills, including public speaking and community organizing. We hold violence prevention workshops, screenings, and panel discussions to raise awareness about gender-based violence and to connect our audiences to service providers. We also distribute pledge cards to encourage audience members to take concrete action to prevent gender-based violence.
The response from the Guatemalan community in Los Angeles has been overwhelming. We have initiated a collective process of healing across generations, legal status, ethnicity, and sexual orientation. One of our initiatives is an ongoing series of community forums where we create space for community members to discuss how we can better create healthy relationships in progressive spaces and social movements.
I have the best of both worlds. My beautiful Guatemalan heritage mixed with my American upbringing gives me a better understanding of the world and my role in it. My work with the Collective is a homage to all the women in Guatemala and around the world.
In June 2013, the Justice for My Sister Collective will launch a guest lecture series on healthy relationships, economic independence, and violence prevention geared towards undocumented women between the ages of 20 and 40.
If your organization is interested in hosting a screening of JUSTICE FOR MY SISTER, please contact Community Outreach Coordinator Heidy Rodriguez at heidyrod10@gmail.com.
A trailer for the film can be found at www.justiceformysister.com.